In Memory
Larry Brown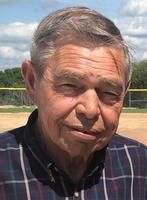 LARRY L. BROWN, 77, of Liberty, Missouri, passed away April 7, 2020 at home, surrounded by his family. Larry was the founder of Larry Brown Excavating, Inc.
Agraveside service will be held at Resurrection Cemetery. Due to gathering restrictions, only family may attend. A celebration of life will be held at a later date.
Larry was born January 19, 1943 in Ottawa, Kansas to Earl and Esther (Knoth ) Brown. Larry left school in the ninth grade to provide for his mother and four siblings. In 1960, he married Mary Sharon Steele and started a family: sons Chris and Adam, daughter Heather, and eight grandchildren.
Larry supported Sharon through her fight with cancer until her death in 1998.
He married Velma McGregor in 2008 and, through their marriage, gained her four children, ten grandchildren, and one great-granddaughter.
Larry worked his way from the poorest of beginnings to build a life for his family. He worked 25 years for Myco Construction, and then went into business for himself in 1984. He and Sharon worked to build Larry Brown Excavating into a company that would eventually employ dozens and be passed on to their children.
Larry was a hard worker and a great family man, but he was also an ornery jokester with incredible tales and a knack for pranks. Many of his unbelievable (but true) stories described his numerous brushes with death.
Larry was preceded in death by his first wife, Sharon, their infant daughter, Bridget, and his parents. Survivors include his wife, Velma Brown; siblings Rodney Brown, Judy Wright, Becky Donley, and Sandra Jones; his children and their families: Christopher Brown (Mitzi), Casey, Alexandra, Grace, and Olivia; Adam Brown (Marie), Katelyn and Hannah; Heather Wolesky (Matt), Ava and Brady; Velma's children and their families: Nichole Payne (John), Desiree', Johnathan, Gracee'; Ashley Truitt (Nick), Jasmyn, Chiara, Dominyc, and great-granddaughter Carrington; Kylee' Brock (Isaac), Liem, Lyric, Langston, and Lochlan; and Roy McGregor (Tree); Larry's half-siblings, Earl Brown, Jr., Eric Brown, and Sherry Majors.
In lieu of flowers, the family recommends donations to the Liberty Education Foundation, where a fund has been set up in Larry's honor. https://libertyeducationfoundation.org/larrybrown