In Memory
Charles Smith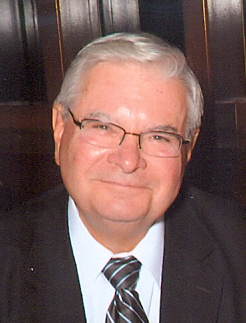 November 16, 1943 — November 29, 2018
Charles Nichol Smith, Jr. (Nick) was born November 16, 1943, in Sedalia, MO, and passed away November 29, 2018, at Liberty Hospital.
Nick was preceded in death by his parents, Charles N. Smith, Sr. and Mary V. (May) Smith, and daughter, Jennifer Smith Carr. He leaves his wife, Diana (Krause) Smith, son, Jeffery A. Smith and daughter-in-law, Dana (Stewart) Smith. He also leaves cousins, nephews, nieces and his beloved Aunt Renie (Irene E. Homan). Nick and Diana were united in marriage on June 30, 1968, and recently celebrated 50 years of marriage.
Nick graduated from North Kansas City High School. He had a 35-year career with the Kansas City Southern Railway, retiring as Chief Engineer and Project Supervisor. Following retirement, Nick volunteered with the Wynbrick Homes Association, Habitat for Humanity, and was a member of Liberty Lions Club. Nick was an Eagle Scout and member of the Tribe of Mic-O-Say. He was an active member of St. Stephen Lutheran Church, serving as an elder and usher.
Visitation will be held from 5-8 pm Thursday, December 6, at St. Stephen Lutheran Church, 205 North Forest, Liberty. A service celebrating Nick's life will be held at 10:00 am Friday, December 7, at the church. Burial will follow in Glenridge Cemetery. The family requests no flowers and suggests memorials to a scholarship fund at St. Stephen Lutheran Church which will be established to send youth to National conference in the summer, 2019. You may share a message with the family or sign an on-line guest book via www.parklawnfunerals.com. Arrangements: Park Lawn Northland Chapel (816) 781-8228.