In Memory
Robert Finley VIEW PROFILE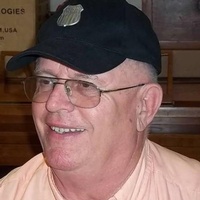 Robert "Bob" Eugene Finley, Jr., was born to Robert Sr., and Betty Lou (Butler) Finley on Monday, November 29, 1943, in Iola, Kan.

Visitation was Thursday, April 5, from 5 to 7 p.m. at the Church of Christ in Marysville.

A funeral service was held at 11:00 a.m., Friday, April 6 at the Church of Christ. Rodger Lane and Levi Oehm officiate. Music included "How Great Thou Art" and "It Is Well with My Soul".

The pallbearers were Levi Oehm, Ray Oehm, Dan Hooyer, Tyler Finley, Rick Herbert and Collin Finley.

Burial was in the Marysville City Cemetery.

Bob grew up in Kansas City and graduated from North Kansas City High. Bob attended Chanute Junior College and later joined the Air Force, serving from 1962 to 1966.

On Valentine's Day of 1964, Bob met Joyce Lamb at Planet Drive-In at Midwest City, Okla., and married her April 12th of that same year. They had three children, Debbie, Donna, and Brent. After leaving the Air Force, the family moved to Gladstone, Mo., where Bob worked for Southwestern Bell Telephone and Associated Grocers before joining the Union Pacific Railroad in 1973.

In 1981, the family moved to Marysville, Kan., where Bob later retired as an Engineer from the Railroad in March 2004. In December 2004, Bob and Joyce moved to Livingston, Tex., where they enjoyed the RV social life.

On April 19, 2009, Bob and Joyce were both baptized at the Church of Christ building in Marysville, by their grandson, Levi Oehm.

Bob died April 2, 2018. He was 74. Survivors include his wife, Joyce; three brothers, Richard, Marysville, Kan., Jim, Parkville, Mo., and Ray, Kansas City, Mo.; two daughters, Debbie Herbert, Palm Bay, Fla., and Donna Oehm, Oketo, Kan.; eight grandchildren and nine great-grandchildren.

Bob was preceded in death by his parents; younger brother, William; and only son, Brent.

A memorial fund is established to the Church of Christ. Contributions may be sent in care of Kinsley Mortuary.
Click here to see Robert's last Profile entry.